Randy Allen
President & CEO
Randy was born at Culver Union Hospital to Robert and Marilyn Allen He was raised in Crawfordsville Indiana where he currently resides.
He graduated from North Montgomery High School in 1990 and received an Associate degree in business administration from Vincennes University in 1992. After a few years back in Crawfordsville Randy opened Allen Monument Company in 1995. He and his wife Debbie live in Crawfordsville and have five children, Kristen, Kyle, Hope, Charlie and Grace. In his free time Randy enjoys spending time on the lake with his family & friends.
Ben Auxier
President & CEO
Hello! I'm Ben Auxier. I was born and raised in Lafayette, IN. I'm a 2001 graduate from McCutcheon High School and went onto receive my mortuary science degree from Mid-America College of Mortuary Science in 2009. With over 25 years of experience in the funeral home industry, I take great pride in serving families in their time of need.
I joined the Allen Monument Company family in 2019 and oversee all four store locations as the General Manager. In my free time you can find me out on the golf course or just simply enjoying the great outdoors.
Hope Allen Stone
Customer Service Representative
Hope was born and raised in Montgomery County where she currently resides. She joined her father's business in February 2017. Hope is passionate about serving families and working alongside her father. She cherishes the lifelong friendships she has made with our wholesale accounts from all over Indiana.
In her free time, she enjoys gardening, cooking, and shopping for primitive antiques. Hope is an avid dog lover and will help any animals in need. She loves spending time with her husband, Kevin, and daughter, Delilah.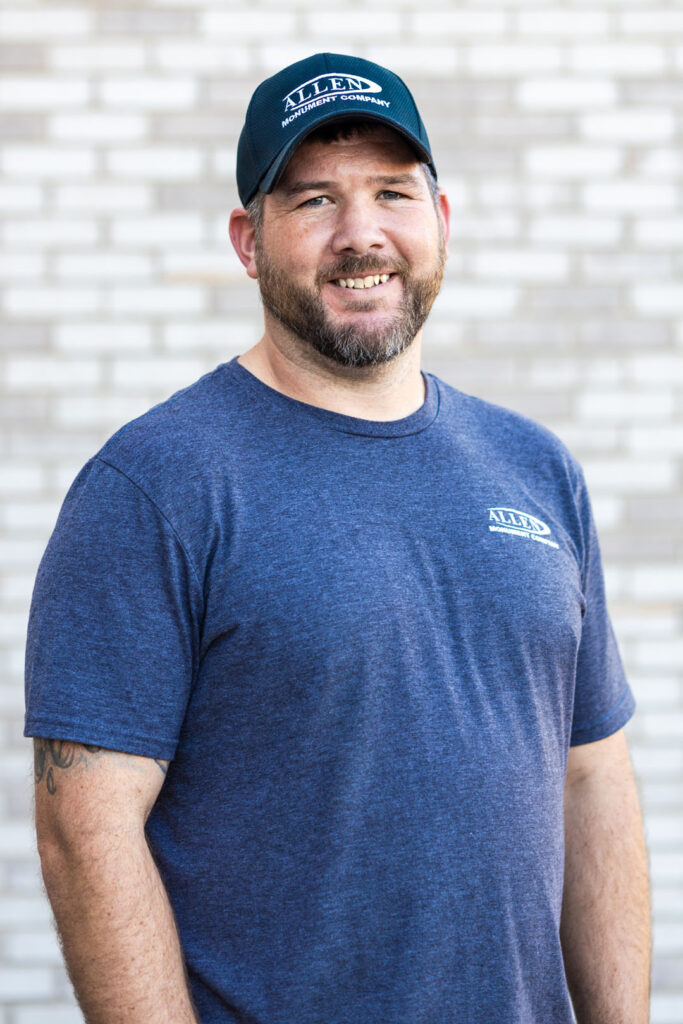 Kevin Stone
Production
Kevin was born and raised in Crawfordsville. He worked part time helping in the shop and later joined Allen Monuments full time in 2018. Kevin oversees our production team and manufacturing process. He ensures all memorials are perfect before being delivered to our customers.
In his spare time, he enjoys restoring his '73 Chevy Nova. He also enjoys spending time with his wife Hope and daughter Delilah.
Jacob Byers
Memorial Specialist Lafayette
I graduated from Lewis Cass High School in 2008 and entered the United States Navy. I served for 4 years on-board USS The Sullivans (DDG68) stationed in Mayport, FL. In that time I completed 3 deployments and traveled from Florida all the way to Japan and back. After my Naval service, I reconnected with my now wife, Tabitha. We have 2 wonderful children and live in Galveston, IN. In my free time I enjoy some woodworking and I'm a gamer.
I have been with Allen Monument Company since September of 2020 and I manage the Lafayette store location. I enjoy meeting new people and sharing classic military stories and memories with fellow veterans and their family members. I love working directly with families to provide them a one-of-a-kind, everlasting tribute to their loved one.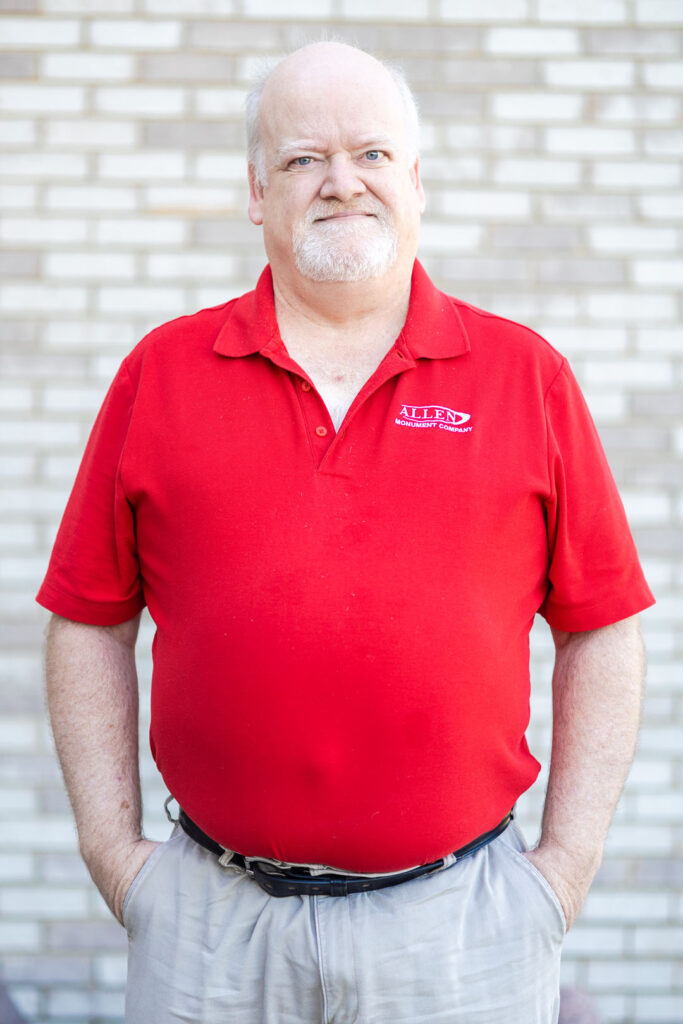 Mark Deacon
Memorial Specialist Indianapolis
I have been the manager of Allen Monument's Indianapolis store on Madison Avenue since May of 2017. I have 37 years of sales experience with 32 of those years in management. I've always enjoyed helping people and feel blessed to do just that in this industry.
I have a B.S. degree in Telecommunications from Ball State with minors in Business Management and Political Science. I have a daughter, Bailey, and I enjoy all spectator sports, travel and ground floor business opportunities.
Mark Newman
Memorial Specialist Monticello
Hi my name is Mark Newman. I am the proud father of two boys, Jacob who is 23, and Michael who is 19. I am a pastor of a church in Monon, IN. I have held that position since 2015. I belong to the Rotary Club of Monticello, and the City of Monticello as well as Mayor's Advisory Council for Americans with Disabities.
I have been with Allen Monument Company since June of this year, 2021, and I really enjoy helping people with their family needs. I enjoy playing tennis, and golf, but my favorite time is spending time with my family and friends.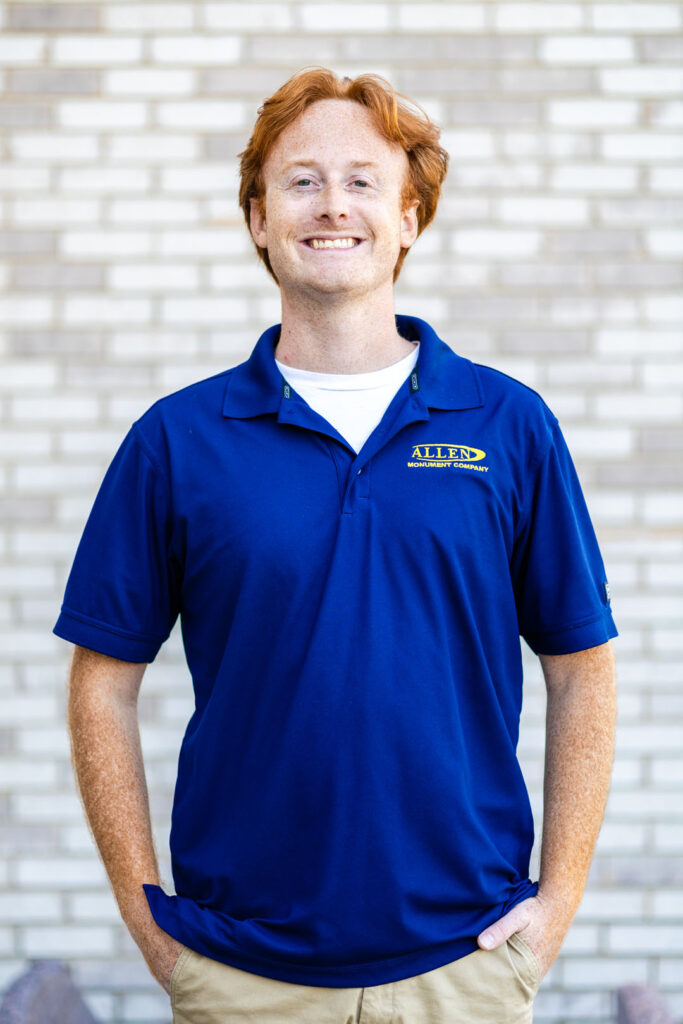 Tyler Shelton
Memorial Specialist & CAD Designer
My name is Tyler Shelton, I was born and raised around the Crawfordsville area on my family's farm. I graduated high school from North Montgomery in 2011. I attended and graduated from Ball State University with an associate degree in Education and bachelor's degree in Meteorology and Climatology. In my free time, I enjoy being outdoors; kayaking, hiking, landscaping, playing soccer or storm chasing when the opportunity comes up. When not outside, I enjoy watching sports, streaming tv shows and sampling all my girlfriend's baked goods.
I started at Allen monument company in January of 2020 splitting time\ between monument specialist and CAD designer.
Tabitha Byers
Marketing Manager & CAD Designer
Hey there! As an experienced graphic designer, mixed media artist, wife and mom of two, I'm driven by coffee, faith and outside-the-box creativity. I take great pride in my artwork and strive to provide families with the absolute best one-of-a-kind memorials you won't find anywhere else.
I've been with Allen Monument Company since January 2018. Within the last few years, I have been able to design several unique memorials and pushed the boundaries of our laser etching technique to provide endless possibilities for preserving your loved ones everlasting memories. I'm also blessed to be able to work with my husband, Jacob, who manages our Lafayette store location.
Scott Holland
Production
My name is Scott Holland and I have worked for the Allen Monument Company family for 10 years. I'm an experienced craftsman and have a keen eye for detail when it comes to stenciling and engraving each individual monument.
I was born in raised in Crawfordsville, IN. In my free time, I enjoy spending time with family and especially love watching my grandkids.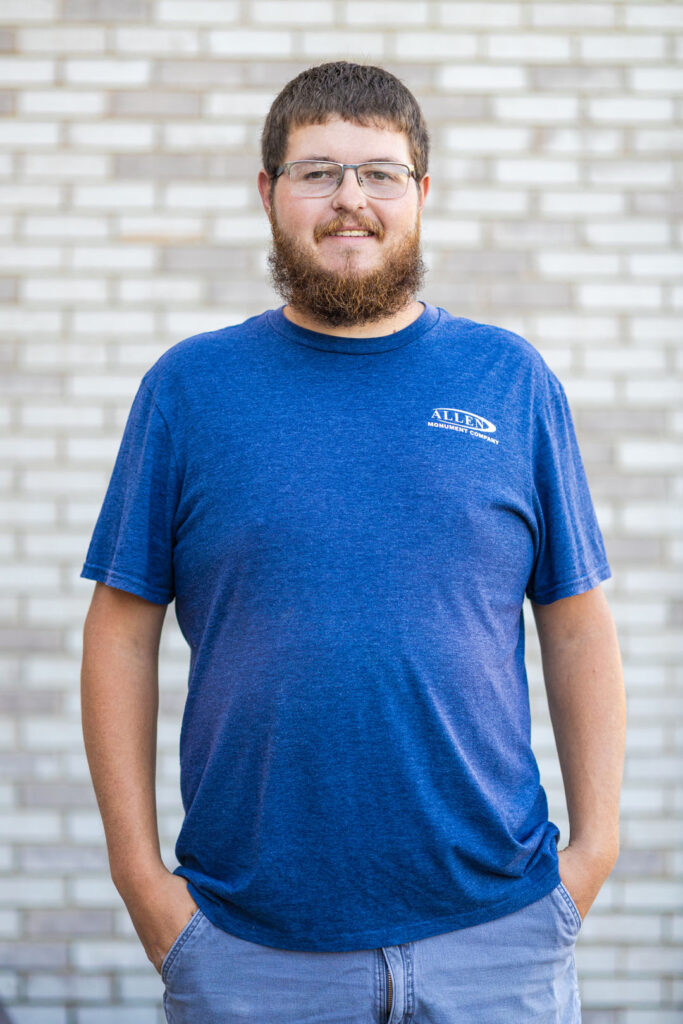 Cody Wood
Production
My name is Cody Wood and I was born and raised in Hoopston, Illinois. I've worked here at Allen Monument Company for 4 years setting memorials. I really like the experience of meeting new families and interacting with our dealers.
In my free time I enjoy hunting, fishing and spending time with my wife, Andrea, and my two beautiful daughters.
Josh Stewart
Production
My name is Josh Stewart and I am a delivery driver and manufacturer here at Allen Monument Company. I'm dedicated to providing the best quality when setting and delivering monuments.
I graduated from North Montgomery High School in 2010. I'm passionate about photography, backpacking and being out in nature.