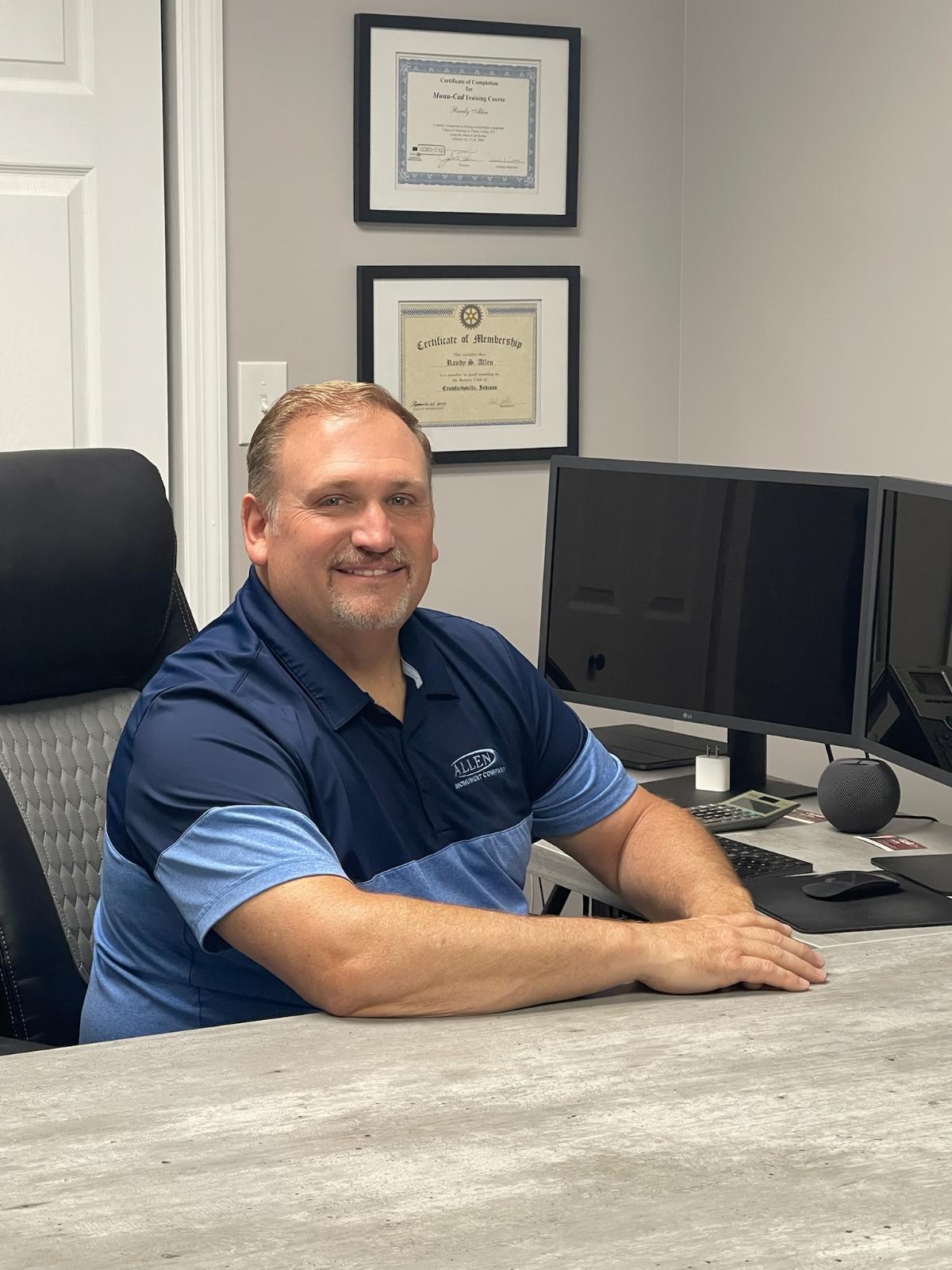 Randy Allen
President & CEO
Randy was born at Culver Union Hospital to Robert and Marilyn Allen. He was raised in Crawfordsville, Indiana where he currently resides. He graduated from North Montgomery High School in 1990 and received an Associate degree in business administration from Vincennes University in 1992.
After moving back to Crawfordsville, Randy opened Allen Monument Company in 1995. He is a member of Montgomery County Chamber of Commerce and the Indiana Cemetery Association (ICA). Randy and his wife, Debbie live in Crawfordsville and have five children, Kristen, Kyle, Hope, Charlie and Grace. In his free time, Randy enjoys spending time on the lake with his family and friends.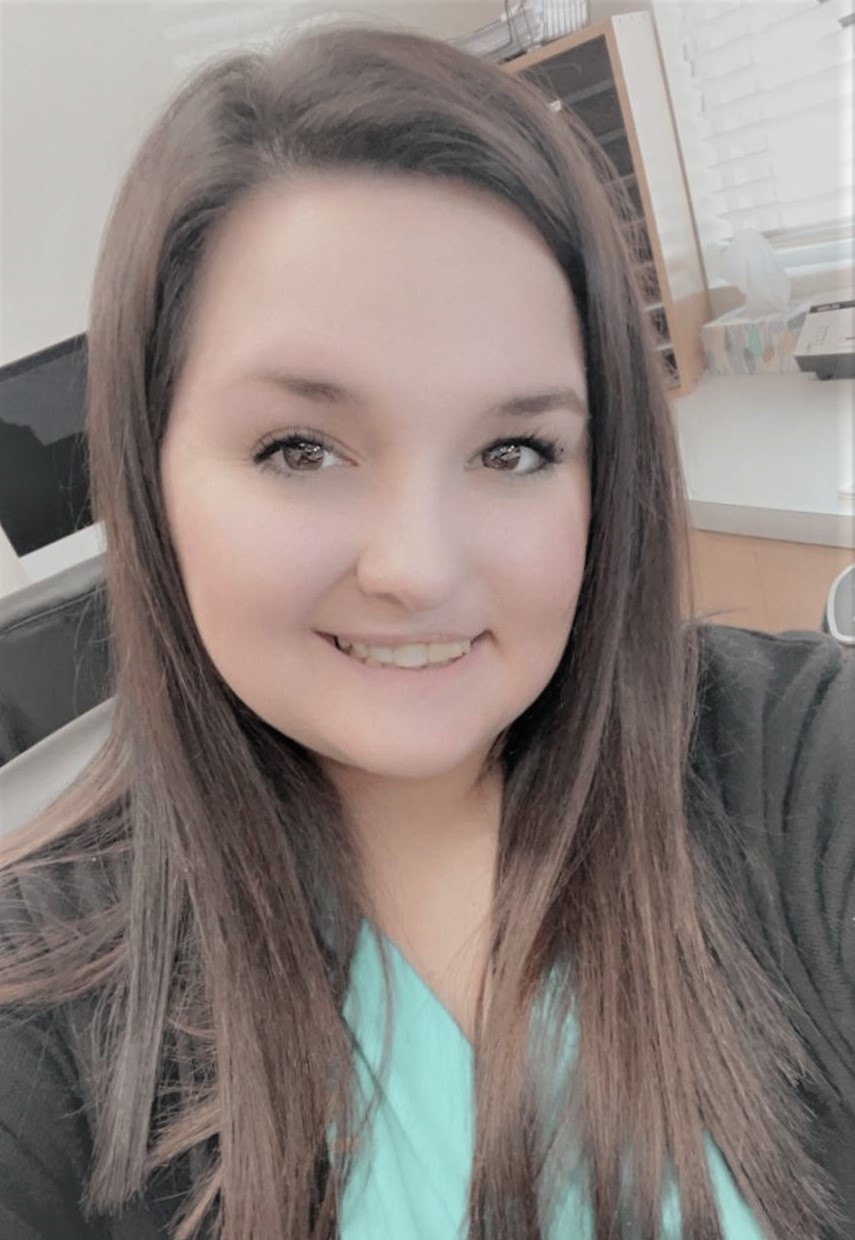 Hope Allen Stone
CSR & General Manager
Hope's great grandparents Austin and Margaret Money managed Oak Hill Cemetery in Crawfordsville from 1956 to 1995. They lived in the house adjacent to the cemetery office. Hope has been around the monument and cemetery industry her entire life.
She joined her father's business in 2017 and is passionate about serving families and working alongside her father. She cherishes the lifelong friendships she has made with our wholesale accounts from all over Indiana. Hope is a member of Montgomery County Chamber of Commerce and the Indiana Cemetery Association (ICA). She is also a three-year member and ordained minister at ULCM.
Hope was born and raised in Montgomery County where she currently resides on her farm. Hope is an avid animal lover and will help any animals in need. In her free time, she enjoys gardening, cooking and shopping primitive antiques. Hope is married to Kevin and together they share a daughter, Delilah, also known as "DJ".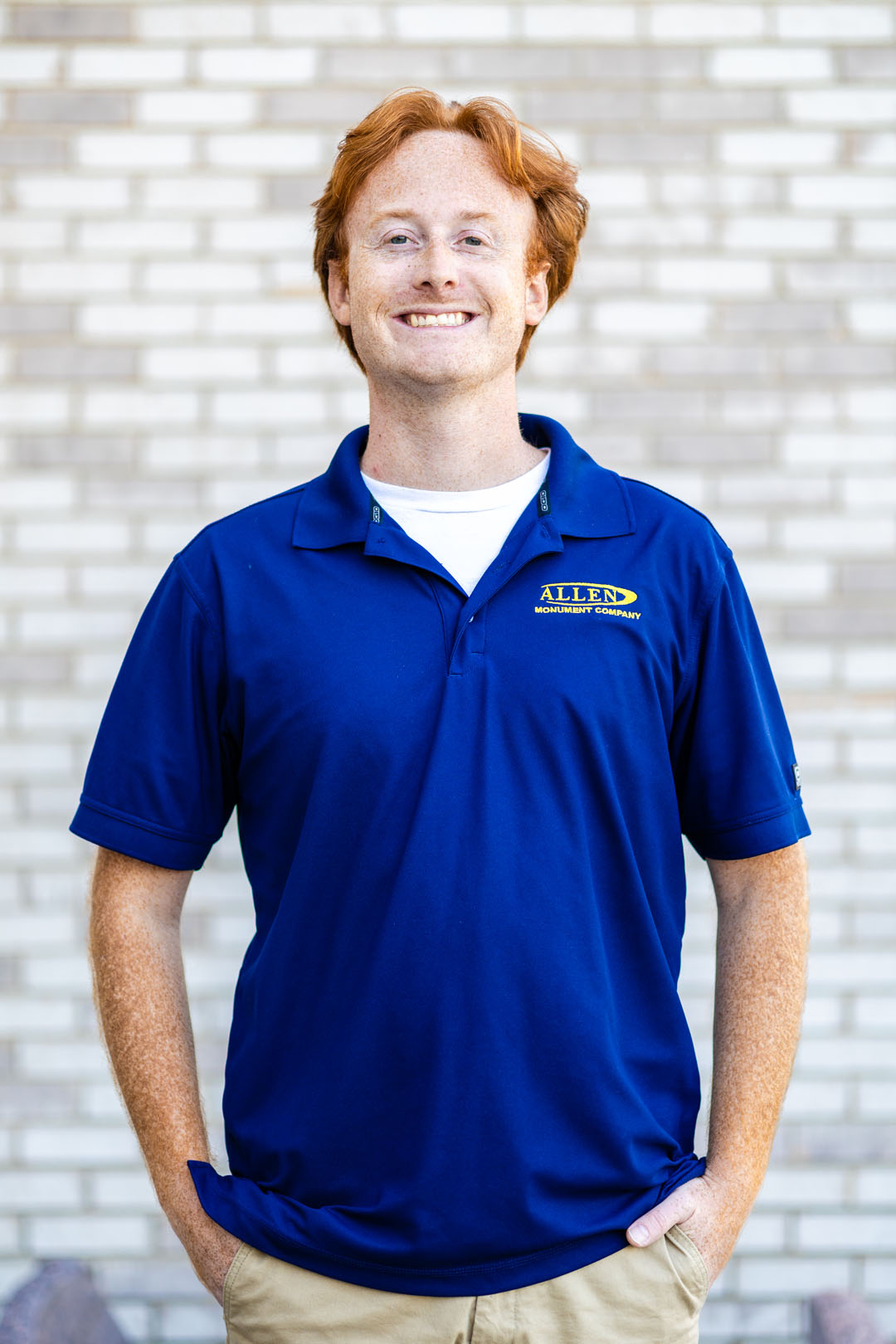 Tyler Shelton
Sales Manager & CAD Designer
My name is Tyler Shelton. I was born and raised in Montgomery County on my family's farm. I graduated high school from North Montgomery in 2011. I attended and graduated from Ball State University with an associate degree in Education and a bachelor's degree in Meteorology and Climatology.
I joined Allen Monuments in January of 2020 as a Memorial Specialist and CAD Designer at our Crawfordsville location. I enjoy meeting with families and helping them design a memorial that will last a lifetime.
In my free time, I enjoy being outdoors; kayaking, hiking, landscaping, playing soccer or storm chasing when the opportunity comes up. When not outside, I enjoy watching sports, streaming tv shows and sampling all my wife's baked goods.
Cooper Bowman
Design Manager
Hello, I'm Cooper! I'm from New Richmond, IN. I currently reside in Darlington, IN. I graduated from North Montgomery High School in 2021. I have several years of design and marketing experience. I look forward to designing memorials for our families and dealers.
In my free time, I enjoy sports, photography and spending time with family and friends.
Mark Newman
Memorial Specialist Monticello
Hi, my name is Mark Newman. I am the proud father of two boys, Jacob who is 23, and Michael who is 19. I am a pastor of a church in Monon, IN. I have held that position since 2015. I belong to the Rotary Club of Monticello, and the City of Monticello, as well as Mayor's Advisory Council for Americans with Disabities.
I really enjoy helping people with their family needs. I enjoy playing tennis, and golf, but my favorite time is spending time with my family and friends.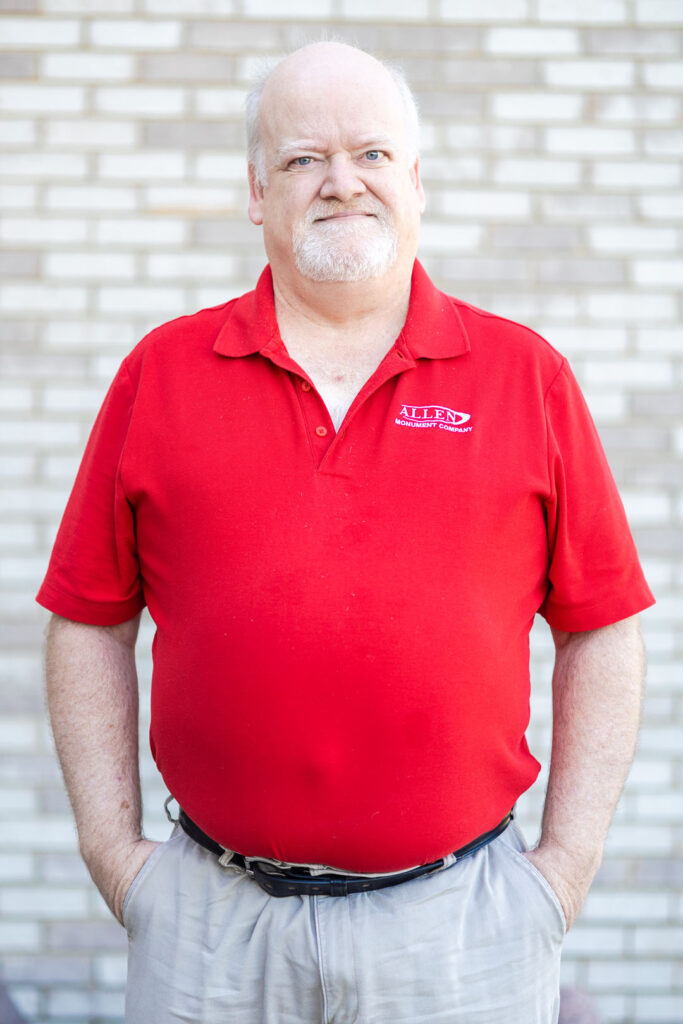 Mark Deacon
Memorial Specialist Indianapolis
I have been the manager of Allen Monument's Indianapolis store on Madison Avenue since May of 2017. I have 37 years of sales experience with thirty-two of those years in management. I've always enjoyed helping people and feel blessed to do just that in this industry.
I have a B.S. degree in Telecommunications from Ball State with minors in Business Management and Political Science. I have a daughter, Bailey, and I enjoy all spectator sports, travel and ground floor business opportunities.
Travis McMichael
Memorial Specialist Lafayette & CAD Designer
Hey there! I'm Travis McMichael and I was born in a small town of Northwest, Ohio. I grew up in Rushville, Indiana and graduated from Rushville Consolidated High School in 2003. I graduated from The Ohio State University majoring in Business Management. After college, I pursued a career in hotel management for twenty years.
I currently reside in Crawfordsville with my wife, Morgan and our children. We are expecting our first child together this year. We enjoy camping, fishing, kayaking and spending time with our children. I'm a vintage toy collector and hoarder.
I love to live each day to the fullest and take every day that I get to spend with my family as a blessing and privilege. I understand that choosing a memorial is a permanent life decision and I'm here to help turn your everlasting memories into reality on granite.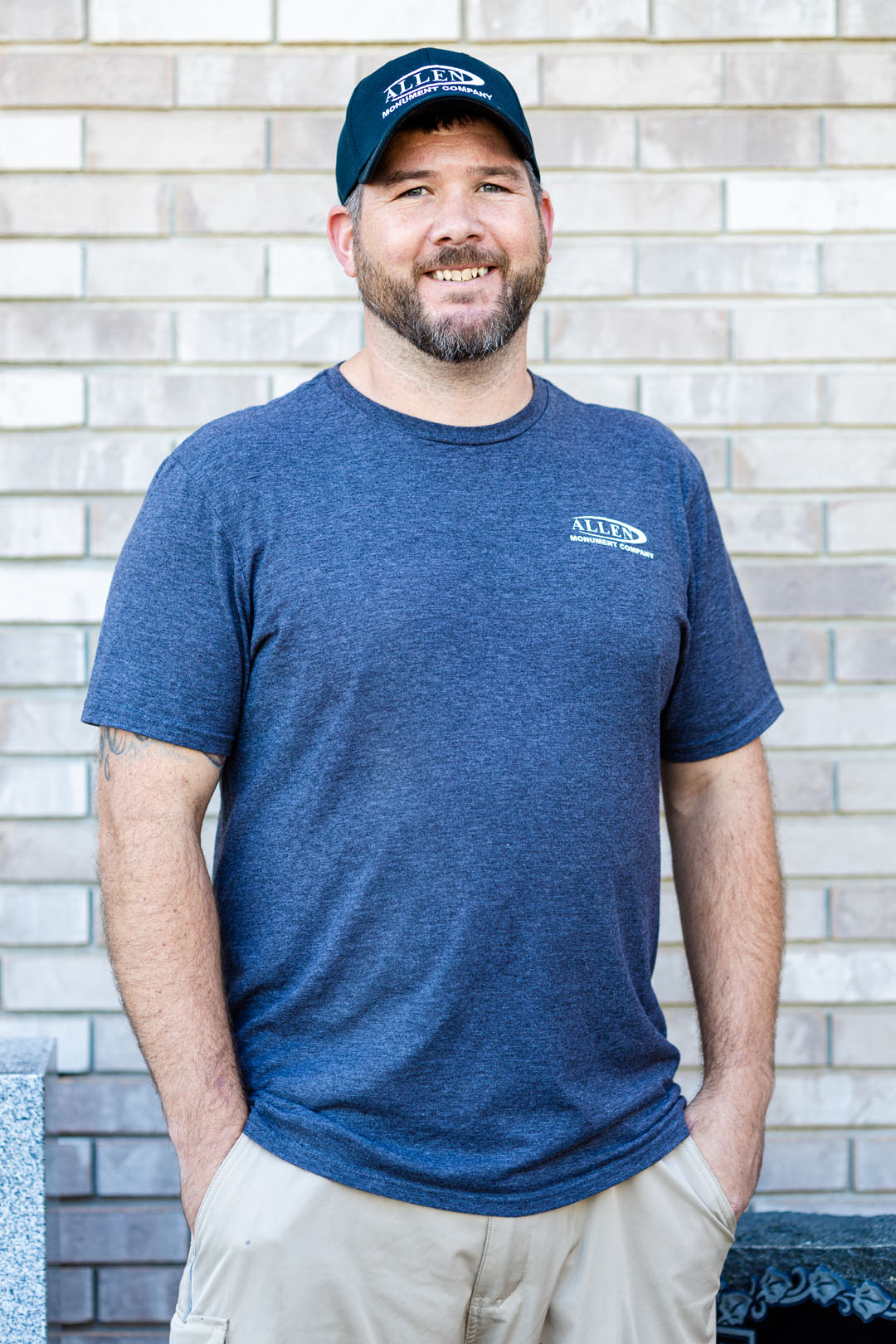 Kevin Stone
Production Manager
Kevin was born and raised in Crawfordsville. He worked part time helping in the shop and later joined Allen Monuments full time in 2018. Kevin oversees our production team and manufacturing process. He ensures all memorials are perfect before being delivered to our customers.
In his spare time, he enjoys restoring his '73 Chevy Nova. He also enjoys spending time with his wife Hope and daughter DJ.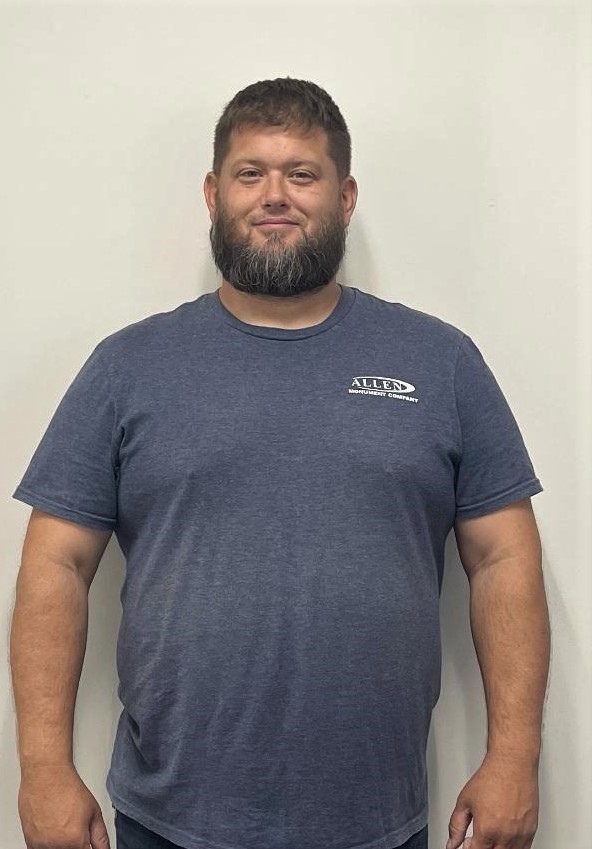 Kyle Ford
Production & Delivery
Howdy! My name is Kyle Ford and I'm from Crawfordsville. I've enjoyed the experience of meeting new families, interacting with our dealers and traveling to new cemeteries.
In my free time, I enjoy boating, fishing, hunting and spending time with my lovely wife, Ashley. Together, we share five children.